Infrared Wrist Thermometer
The Model TS-1 is a self-help, non-contact infrared wrist thermometer designed to quickly screen people for high temperatures.  The rechargeable thermometer will give up to 50 hours of continuous operation on a full charge.  Compared to hiring an employee to manually screen people at an entrance, the Model TS-1 is a cost-effective, hands-off solution to keep a workplace, lobby, school, warehouse, or other large gathering area safe. 
How does it work?
The temperature screening device includes a motion sensor and will give voice instructions for people to check their temperature as they approach the device. The user then places their wrist inside the ring and their temperature is taken.  The thermometer will instantly indicate the temperature reading on the digital display, will give an audible indication, and a green, yellow, or red light on the side of the thermometer will illuminate based on the temperature reading and set points. Results will appear in less than one second!
Below are the factory settings for temperature readings. These can be adjusted up and down.
A temperature between 89.6°F-98.6°F (32°C-37°C) will illuminate the green light.
A temperature above 98.6°F and less than 99.1°F (37°C-37.3°C) will illuminate the yellow light.
A temperature above 99.1°F (37.3°C) will illuminate the red light.
How is the TS-1 unit set up?
Set-up is simple! The units are designed to mount on a stanchion pole, but can also be set on a desk or mounted on a wall with the optional desk stand or wall mounting bracket. Place your unit in the mounting device of your choice.  Then, simply press the button on the bottom of the thermometer, and your device is ready to begin temperature screening!
Who could benefit from a TS-1?
The TS-1 is perfect for any large gathering place or place of business that has dozens of employees or sees a lot of foot traffic from visitors or customers. You'll find a Theroscan in many:
•

Schools & churches

•

Sporting arenas & conference halls

•

Large office buildings, warehouses, & factories

•

Shopping centers, malls, & large stores

•

Hospitals, doctors offices, senior living facilities, & laboratories

•

Courthouses & city halls

•

Airports
$750.00
Videos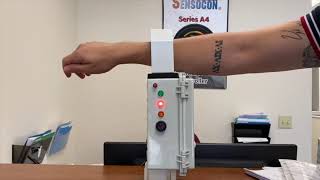 Theroscan Infrared Temperature Scanner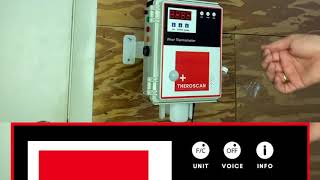 Theroscan Buttons & Functions
Theroscan Infrared Temperature Scanner

Theroscan Buttons & Functions
Accessories
Specifications
| | |
| --- | --- |
| Temperature Range: | 86-113° F (30-45° C) |
| Accuracy: | Typical +/- 0.18° F (0.1° C) Maximum +/- 0.36° F (0.2° C) |
| Power: | 100-240 VAC with provided power cord |
| Enclosure: | ABS |
| Dimensions: | 6.3 x 8.3 x 3.9 inches (160 x 210 x 100 mm) |
| Weight: | 4 lbs |
Downloads
FAQs
[ultimate-faqs include_category='device-setup']